Where We Grow
If you were a pear, where would you want to grow? Our multi-generational pear growers know the answer to that is a river valley, and specifically the Wenatchee River Valley and Entiat River Valley in North central Washington.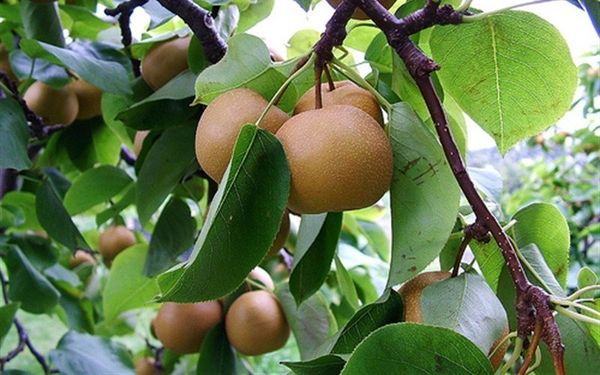 The soil is rich with nutrients from volcanic activity long ago. The mountains protect delicate pears by offering cooler temperatures during the hot summer, and great airflow to maintain clean, high-quality fruit during the growing season. And the rushing rivers next to our orchards provide a clean and constant water supply.

These river valleys are stunning spots to see, and most importantly, the place you want to grow if you were a pear.

How We Grow
To grow pears, they must go through all four seasons to achieve high quality and amazing flavor. Every winter, our trees will go into a dormant state to rest. Not only does this help the next year's crop flourish, but it also gives our crews time to prune to help balance the following year's crop.

Once the snow melts and warmer temperatures are on the horizon, our pears begin to blossom. Once pollenization occurs, pears are well on their way to becoming real pieces of fruit!
During the heat of summer, watering and feeding is dialed in to ensure trees are getting necessary nutrients.
When fall arrives, pear harvest is in full swing. Many are not aware, but every pear is hand-picked off the tree!

After harvest wraps up in October, compost is applied to the base of the tree to feed trees once they complete their winter nap. By late October or November, the leaves will turn and start to fall off the tree, they go dormant, and the orchard will have a calm moment before the cycle begins again.

Storage & Packing
Storing Pears
Pears are picked and either packed immediately, or sent to a Controlled Atmosphere (CA) room. The rooms are sealed, carbon dioxide and oxygen levels are monitored, and the oxygen becomes so low that the fruit essentially falls asleep. This keeps the pears at the same state as they were during harvest. The rooms are sealed and closely monitored until it's time to pack and ship them.
Packing Pears
Once on the packing line, pears are transported via a water channel. They are rinsed, washed, rinsed again, and dried before we do an initial quality sorting by hand.
After that first inspection, pears are sized and sorted by a machine that uses imaging software to analyze the fruit. The sorted pears are placed by hand into bags, or stickered and then placed into a tray and carton. Packed cartons are either put pears back into CA to await shipping, or stacked onto a pallet to make their way to your store.